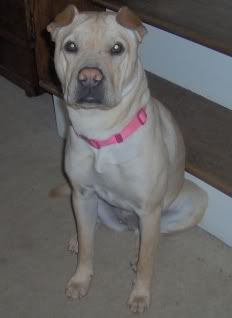 This past winter my eldest son's dog stayed with us several months. She is half Shar pei and half pit bull. I formed quite a bond with her, which still exists. Yesterday she was spayed. Instead of going to my son's house, where several other dogs reside, it was agreed that my house would be the best place for her to convalesce. It didn't start out well however. Within the first 30 minutes she was retching her guts up all over my cream colored carpet. Then the other end started running, of you know what I mean. Needless to say, it has been an exhausting 24 hours. She hasn't eaten since the operation so I have been making little things to try and tempt her. I even cooked her a scrambled egg this morning. She did eat 2 bites of it, but that was all she could force down. I feel so sorry for her and wish I could take her pain away. I guess no one ever warned her a dog's life wasn't an easy life. Poor little thing.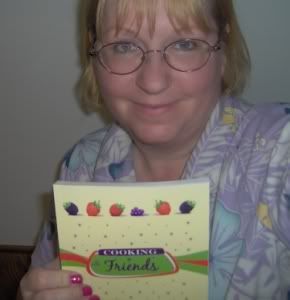 I had some excitement today to get my Memorial Day weekend started off right. I got the dummy copy of my book,
Cooking With Friends
, in the mail today! I admit, I did scream so loudly that I scared the dogs, and I did almost pee in my pants. It was extremely exciting! (the getting of the book that is, not the almost peeing in my pants part). It never seems real until you hold your baby in your hands. I held it, I hugged it, I sniffed it and I almost licked it. I felt like I had given birth and in a way I suppose I had. After I was finally able to stop screaming I drove to my husbands office to show him the book. Everyone in the office had to have a look of course, but I didn't mind that a bit. I felt like a new mommy showing off her cute little brand new baby. The owner of my husbands company told me to give him 12 copies to sell in his store. He said he would put a sign next to it that said "Local author". I may actually do that. It's all so exciting. I can tell you for sure that we will be celebrating tonight.