The postman delivered a package to me from my daughter today. Now let it be known that my postman is deathly afraid of dogs and therefore is afraid to come to my door. The few times he has come to the door he has his can of mace out and at the ready. If only he know how docile our dog really is. But I'm sure the outside door mat that says "Caution – Unbalanced dog" doesn't help matters any. But that's why I was so surprised that he braved if and came to the door to deliver the pkg. Must have been because it was mother's day.
Click on image to enlarge
Brooke sent me the sweetest things for Mothers day. A funny card, a window sticker for family members of soldiers, a wristband, a pin, and an awesome hand made Polish pot (vase thingy?) and the coolest piece of hand painted stoneware from the Netherlands. I am in awe. I feel like Christmas has come. Thanks so much Brooke, I appreciate it all! You are my favorite daughter! Well, you actually my only daughter, but you can still be my favorite daughter, can't you?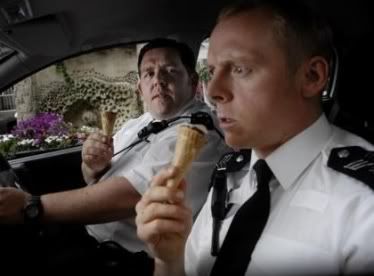 Last night was movie night here at the Daisy household. The hubster and I went out for pizza and a movie. We went to see
Hot Fuzz
. If you only see one movie this year, make that the movie. I loved it! It was from the makers of
Shaun of the Dead
and was hilarious! If you are having a bad week and new a side-splitting laugh go see
Hot Fuzz
! Daisy's orders!