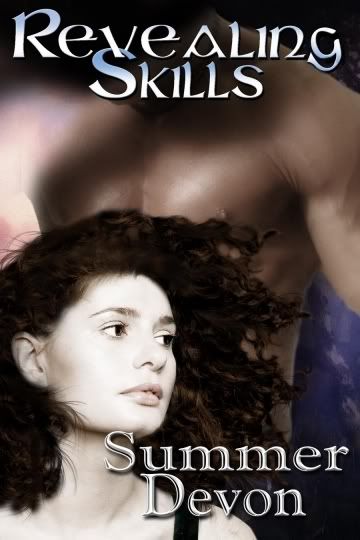 Do you remember the deal I had for you? Or rather, the deal
Kate
had for you? In addition to announcing Kate's
"Have I got a deal for you"
contest the other day, I also took the challenge and read one of the books she recommended. I read
Revealing Skills
by
Summer Devon
.
This is the first shape-shifter book I have ever read and I was a bit concerned that I wouldn't be able to follow along. Was I ever wrong. Summer Devon writes with an ease that makes you feel like you have been reading shape-shifter books forever. I was immediately drawn into the story of Gil and Tabica and couldn't put the book down until I had consumed every delicious word in the book down to the very last page. Even then I had a strong desire to go back and savor each chapter again. To say I was enthralled would be an understatement.
Summer drew me into a world I had never been before. A magical world filled with Castles, Shape-shifter, Fesslerats and Ereshgekils.
I was with Gil as he sat in his dank cell consuming the rat's hair one strand at a time attempting to shape-shift into the fesslerat to escape his imprisonment. I jumped in startlement when Yeva snatched the fesslerat by the tail, holding him aloft as she plotted how best to kill him and sell his pelt. I was on the edge of my seat many times throughout this book. I jumped in fear, I laughed, I cried and I lusted.
Revealing Skills
has it all. Summer Devon has a well rounded talent that few authors are able to achieve. She adeptly holds the readers attention as she rapidly moves her characters from one fascinating situation to another. This is a quick reading book and one you won't want to put down. If you have never read a Summer Devon book, this is the one for you. You will definitely become a Summer Devon fan after reading
Revealing Skills
.