With all of my cookbook and romance novel writing I completely forgot we had a holiday in there somewhere. All of the other blogs I am reading this week are talking about their Easter festivities so having remembered that I had Easter pictures on my camera I thought I would post about our Easter holiday.
Click on image to enlarge

We decided to have an Easter brunch instead of an Easter dinner this year. Since my daughter moved to Germany a year ago we haven't been doing our weekly Sunday dinners. I think she was the glue that held us together. It just doesn't seem the same when one of your chicks is missing from the nest. My eldest son, granddaughter Jas, and eldest son's girlfriend and her two kids came for Easter brunch. My youngest son was supposed o come but couldn't manage to get himself out of bed until late afternoon.
Click on image to enlarge

The Easter bunny brought the kids huge Easter baskets (of which I only stole one chocolate/peanut butter egg from). The hubster appointed himself head cook and made a huge spread. There was surry sausage, applewood smoked bacon, hash browns, scrambled eggs, Belgium waffles with fresh strawberries and whipped cream, pancakes, fruit salad, and mimosa's.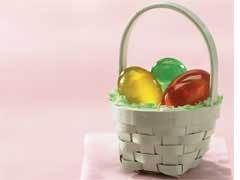 And of course I had to have our traditional jello jiggler eggs for the kids. I made them each a little basket of them and loaded them up with the sugary jiggly monsters. I forgot to take pictures of the kids tearing into their easter baskets and jiggler eggs because I started on the mimosas before they got here. By the time they arrived I was feeling no pain.
After the gang left several hours later, we merely spent the rest of the day laying around recovering. It isn't easy getting up at 8am on a Sunday morning to watch your husband cook brunch for eight. Early in the evening we had recovered enough to go out for a ridiculously expensive seafood dinner, which we enjoyed enormously. All in all not a bad Easter.